the londoner, designed by yabu pushelberg, opens in leicester square
steps away from many of the UK capital's most renowned and visited theaters, it hits the perfect pitch that the londoner hotel in leicester square was designed by yabu pushelberg as an ode to the art of performance. sixteen stories above- and below-ground, archetypes of a theater production's cast and crew personify the interiors, adding an ensemble of unique characters and layering mystery, entertainment, culture and, fundamentally, relaxation to the guest experience. it is no reason the establishment is described as the first-ever super boutique hotel.

the interiors of super boutique hotel the londoner are designed by yabu pushelberg
all images © henry bourne
the hotel interiors personify crew and cast of a theater production
yabu pushelberg creates a seductive ambience in the hotel lobby, reception and bar. people are immediately welcomed by the open space. the reception is tucked to the side to be unobtrusive, enable remote check-in, free passage to the lounge, and allow valets to greet and guide guests to rooms. the bar is seen as the gatekeeper to their experience. intimate seating in the gathering area references a living theater, orchestrated around the box-shaped bar nestled under a veiled atrium. a glowing halo wraps around the mirrored ceiling for added spectacle.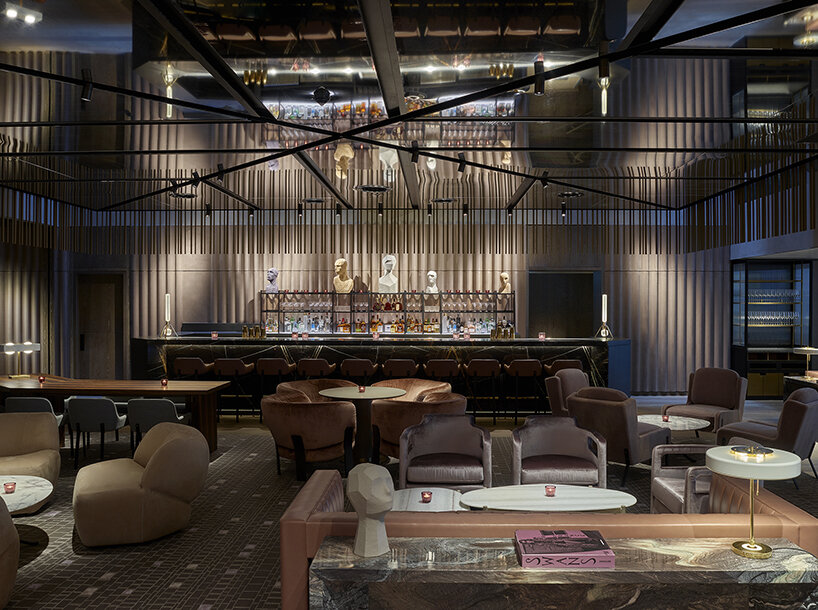 with interiors mirroring the art of performance, the lobby bar recreates a living theater
opposite check-in and beyond the lounge, the whitcomb's – the londoner's all day dining destination – occupies a corner of the ground floor on leicester square. the room transforms throughout the day with two harvest tables changing for breakfast and dinner. oversized black and white graphic portraits line the walls to add some whimsy, poetic elegance. a dramatic wire sculpture, protruding from the ceiling, depicts loosely sketches faces.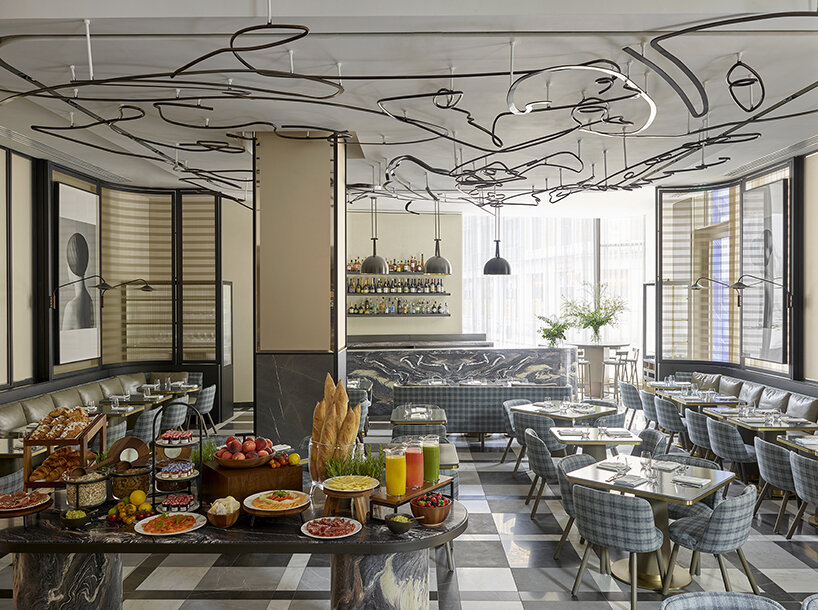 whimsy, poetic artwork adds character to the transformative all-day dining at whitcomb, the londoner
in contrast, joshua's tavern is a much more relaxed setting for locals as well as guests. drinks are served in a setting combining function and aesthetics. wall murals depict a dynamic play on scenes from the 18th century of joshua reynolds, the portraiture artist who lived on the square, by en viu. industrial overhead copper canisters stow larger and ale, and leather saddle stools, collapsible side seating, highly polished brass bars and shelves, and fully retractable windows complete the space.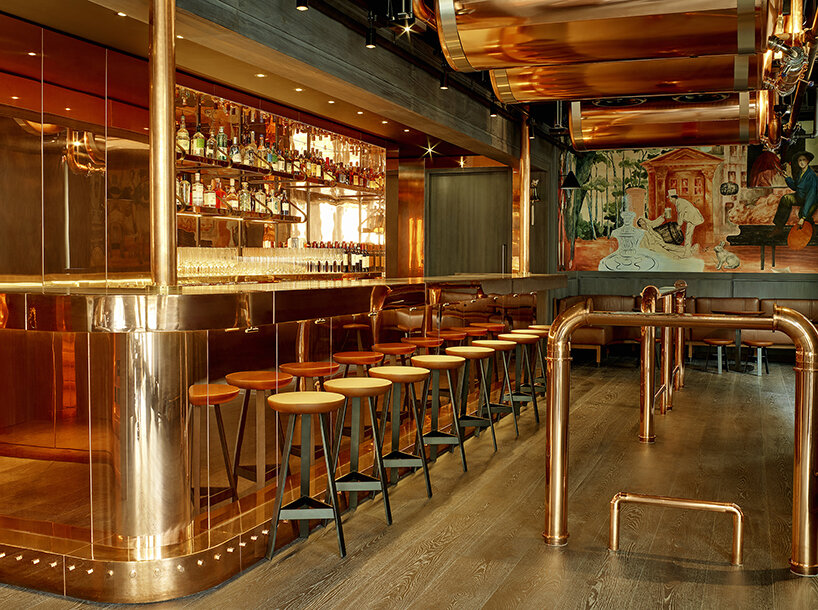 for locals and guests, en viu's playful murals enclose the pub joshua's tavern
of all eateries open to the public, the 8 at the londoner crowns the hotel; the restaurant, bar and terrace sits on the top floor. the thick, dark wood slats that cover floor-to-ceiling are paired with an intricate roping installation reminiscent of the ancient japanese art of shibari. an open-air terrace sits at the heart. walls of rope surround the space with a suspended sculpture weaved and hung above the fireplace.
yabu pushelberg designs the first-ever super boutique hotel the londoner