A.F. Vandevorst SS00. PIERRE VERDY/AFP via Getty Images 
In the 2018 book A.F. Vandevorst: Ende Neu, writer Dan Thawley gives us his position on Belgian fashion. "Despite many attempts to group Belgian designers under one aesthetic umbrella," he writes, "I find it almost impossible to generalise. What I can say is that, despite their disparate generations and sensibilities, they are all poets."
Poetry is a word often used to describe clothing when design reaches beyond the limits of functionality and into the conceptual. Rarely, however, does the expression truly encompass how fashion might relate to poetry in a literal sense: craftsmanship — this time of textiles, not words; and the ability to express meaning and beauty which only emerge between the lines of the visually discernible. A cohort of Belgian designers emerging at the end of the 20th century, however, have often achieved something akin to this.
Belgian fashion came to the fore in 1986 after six graduates from Antwerp's Royal Academy of Fine Arts — Walter van Beirendonck, Marina Yee, Ann Demeulemeester, Dirk Van Saene, Dries Van Noten and Dirk Bikkembergs — decided to take their collections to London for the 'British Designer Show', a precursor to London Fashion Week. The group rented a booth and after just one day attracted a mass of positive attention. Because of the trouble English and American buyers had pronouncing their Flemish names, the group were labelled 'The Antwerp Six'. Martin Margiela has since been classed as an honorary member, although he did not show with the group in London.
"What unites them is a certain wilfulness, a conceptual approach, a love of surrealism and an unmistakable eye for detail," Elisa De Wyngaert, curator at the Mode Museum (MoMu) in Antwerp, tells me. Nathalie W., owner of Vaniitas, a secondhand designer shop specialising in conceptual Belgian and Japanese design, agrees, assuring that this is a particular facet of the Belgian character.
Perhaps this is why we are witnessing a reinvigorated interest in Belgian fashion design on the secondhand market. Margiela Tabis have never had such mass appeal, and Walter van Beirendonck's psychedelic rave-wear for Wild & Lethal Trash now goes for a hefty sum on most reselling websites. But in the 90s, a decade after these two designers were introduced to an international audience, Belgium became home to a new wave of designers, a group that Kaat Debo, director of MoMu, has dubbed "the second generation". Amongst this troupe are A.F. Vandevorst, Veronique Branquinho, Olivier Theyskens and Haider Ackermann. Here, we ask Nathalie, Kaat and Elisa what makes these four designers so distinctive.
A.F. Vandevorst SS00. PIERRE VERDY/AFP via Getty Images
A.F. Vandevorst
"I didn't know how many special pieces A.F. Vandevorst had made until I went to the archives", Nathalie says. "It's something you can't see from the runway pictures, and it's only when you see it in real life that you realise, 'Okay, they did this!'" After visiting an A.F. Vandevorst sample sale, Nathalie struck up a conversation with the design duo and gained special access to their archives. She now has a whole selection of one-off pieces that were never put into production.
An Vandevorst and Filip Arickx met in 1987 on their first day of the Royal Academy of Fine Arts in Antwerp. The two were kindred spirits and shared, of all things, a common appreciation for hospital ephemera. The two became fast friends, and eventually a couple, before establishing their brand A.F. Vandevorst in 1996.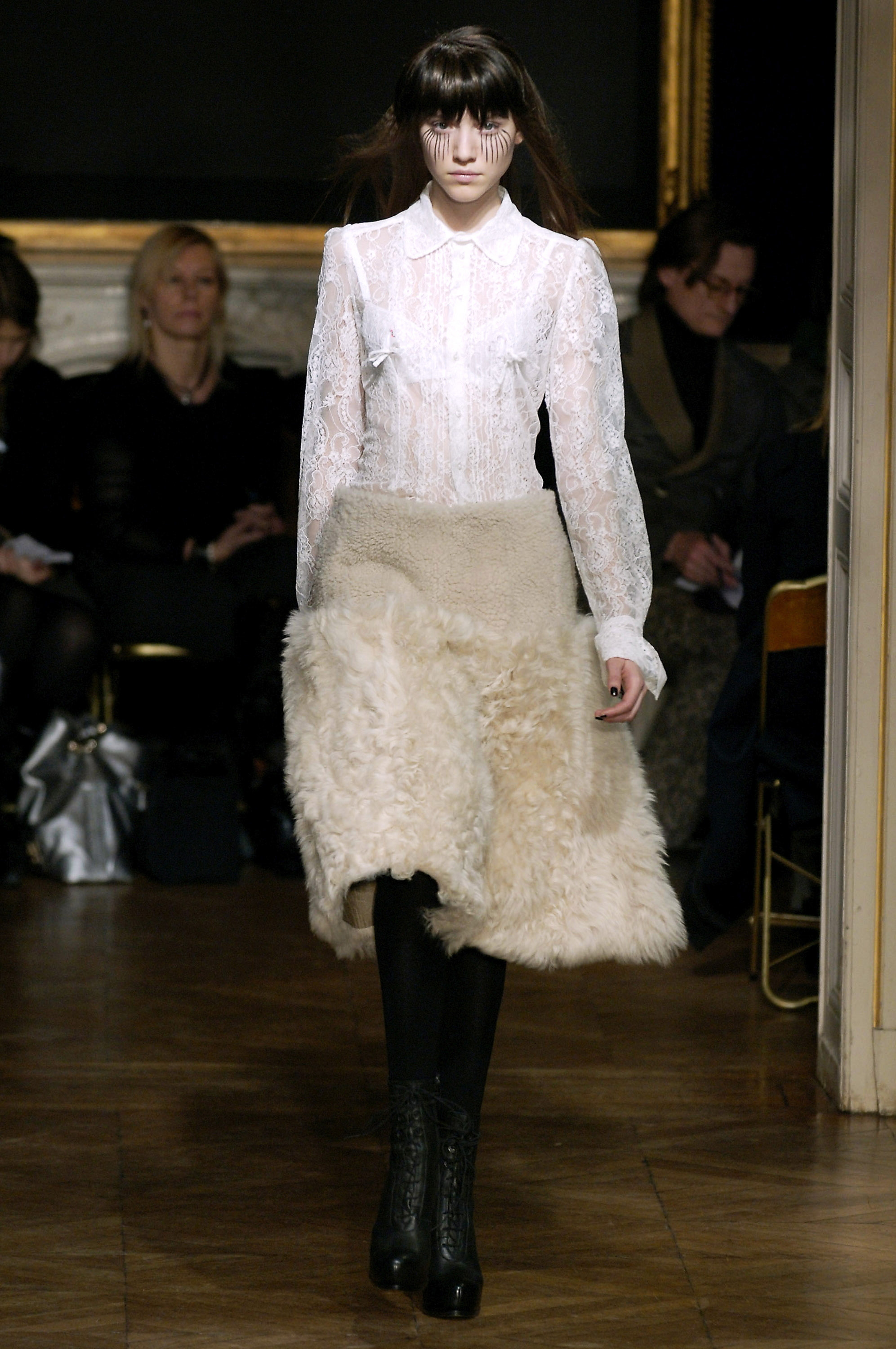 A.F. Vandevorst AW08. Photo by Karl Prouse/Catwalking/Getty Images
It wasn't until two years later that their first collection was shown for AW 1998/99. This collection debuted the themes An and Filip would revisit throughout their 22-year career. Heavy felted fabrics and militaristic references are a nod to An's favourite artist Joseph Beuys — so is the now iconic red cross logo pulled from his work. There were horse riding references, evident in the form of an actual saddle worn on a model's back, as well as riveted garments and their line of 'Fetish' shoes.
In early 2020, A.F. Vandevorst announced that they were no longer going to produce new collections. Within a month, a pair of shoes which might have cost around £30 were going for up to £100. "Instantly everything was limited", Nathalie says of what caused this inflation, "and a second reason is the recognisability — if someone wears A.F. Vandevorst, you will see because they have the cross." As more of us learn about the infamous red logo, it makes the pieces more desirable. "You know, it's avant garde fashion," Nathalie laughs. "It's the same as belonging to a club".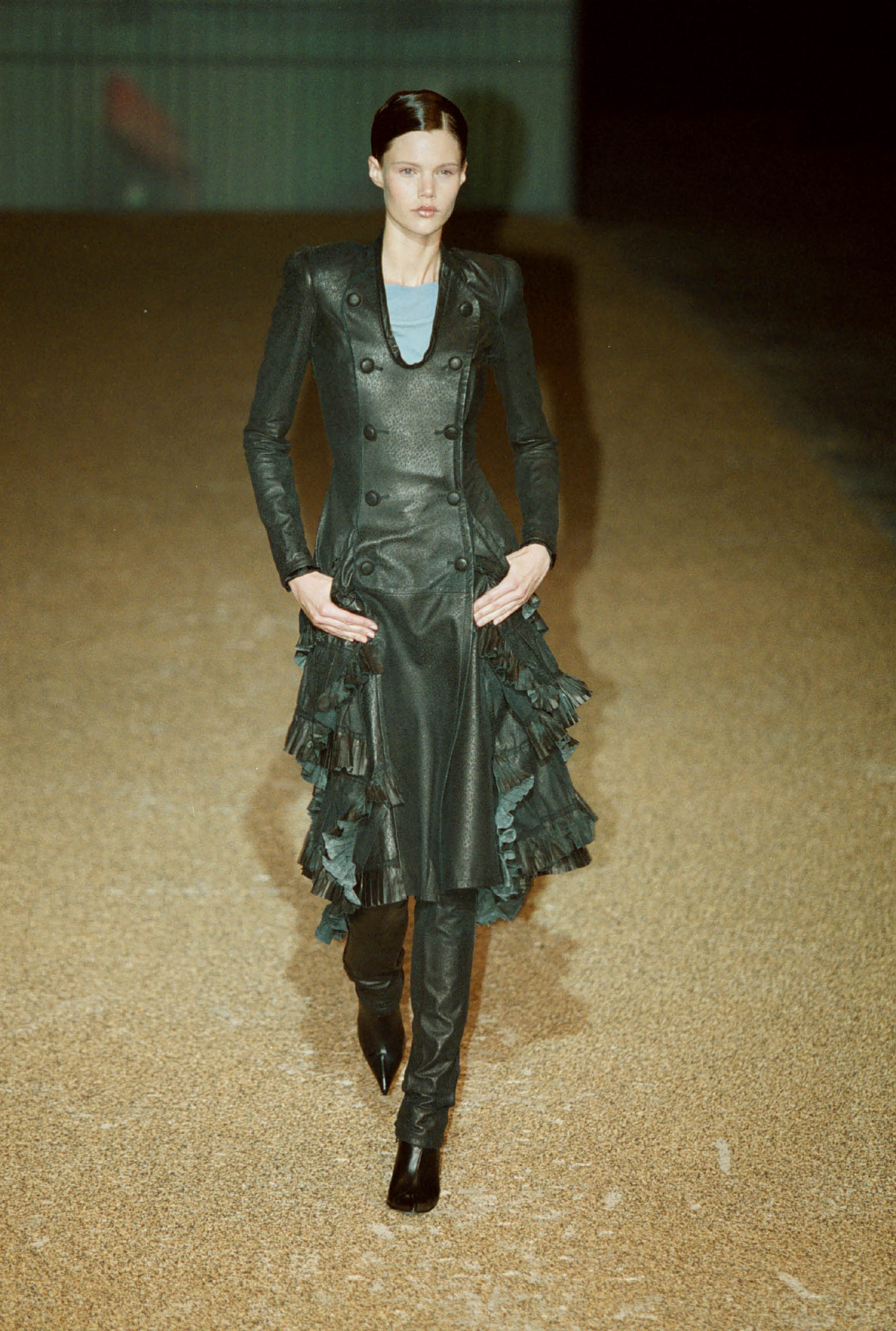 Olivier Theyskens AW01. Photo by Charly Hel/Prestige/Getty Images
Olivier Theyskens
Olivier Theysken's first collection, which was shown at Paris Fashion Week when he was just 21 years old, was unavailable to buy. Titled 'Gloomy Trips', the 1998 show never actually went into production, but not for lack of interest. Constructed from sheets collected by his grandmother in Normandy, it was impossible to recreate any of the narrow Edwardian dresses or black ball gown skirts because the fabrics were so limited. 
As Kaat writes in the catalogue for the 2017 exhibition at MoMu Olivier Theyskens: She Walks in Beauty: "He loves extraordinary fabrics, materials, and textile treatments, selected for the way they reflect light or fall around an active body. Combining that with meticulously developed tailoring, he generates a lightness that keeps his designs in motion." 
This lightness of touch took him to Rochas in 2002, and eventually Nina Ricci in 2006, where his work became a little more commercial, before joining New York-based tailoring and basics label Theory. He then dropped off the radar for a while, but after his most recent show for SS22, Olivier Theyskens seems to have gained a new audience. The collection, which took a year to make, seems to see Olivier revisiting his origins, working slowly with an atelier, using fabrics which feel imbued with memory and tactility, but in more relaxed, contemporary shapes.
Veronique Branquinho AW16. Photo by Catwalking/Getty Images
Veronique Branquinho
When Veronique Branquinho showed her first collection in 1997 at the tender age of 24, she was, according to Kaat in her introduction to the catalogue for Veronique Branquinho's 2008 retrospective at MoMu, heralded as "the Coco Chanel of the twenty-first century". The collection was swiftly picked up by a whopping 27 stores worldwide — almost unheard of after a young designer's first show.
This first collection was inspired by the late David Hamilton's intensely creepy photography of waiflike teenage girls (in 2016 he would be accused of rape by multiple women he'd photographed) and Peter Weir's 1975 film Picnic at Hanging Rock in which young girls dressed in virginal white mysteriously begin to disappear. She would continue to explore sinister dualities in the idea of the contemporary woman as time went on. 
"Her aesthetic was both innocent yet at the same time erotic; both playful and severe, mysterious and complex," Elisa tells me. "That's quite unique and intriguing and might still be appealing and relevant to people who only recently discovered her work". Veronique herself refers to her designs as "romance for the doom generation", a sumptuous phrase which feels apt for a new cohort of young fashion enthusiasts living in an intensely precarious world.
Though she closed her namesake label in 2017, her work now seems to be having a bit of a comeback — Vaniitas is just about to drop a large collection of her work. "She is mostly overlooked for now, perhaps because of [her use of] classic fabrics", Nathalie explains. But the knitwear is simply to die for, she says.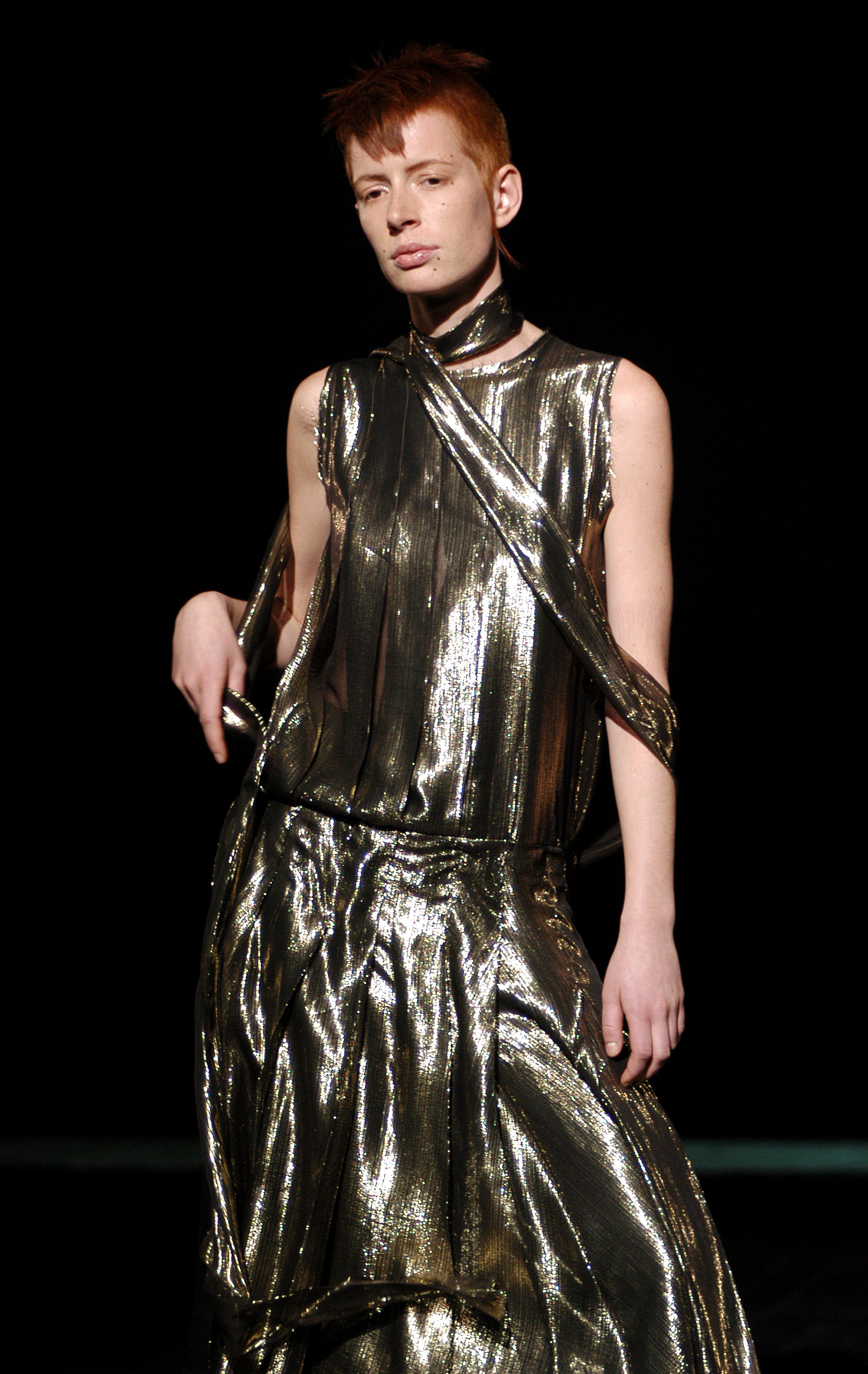 Haider Ackermann AW03. Photo by Jean Baptiste Lacroix/WireImage
Haider Ackermann
Ok, so hear us out here. While he may be the odd one out of this selection, in so far as that he isn't strictly a Belgian designer, but Timothée and Tilda's go-to designer deserves a mention here.  
Haider Ackermann was born in Colombia and adopted by French parents. As his dad was a cartographer, he spent his childhood travelling the world before settling in the Netherlands at the age of 12. It wasn't until 1994 that he moved to Antwerp to study at the Royal Academy of Fine Arts, staying on to work in the city after dropping out in 1997 — and eventually setting up the atelier for his eponymous label there. Perhaps this international influence is why he doesn't share the same strictly Belgian mood that the three aforementioned designers do. 
"Since the international breakthrough of the first generation of Belgian designers in the late 80s, Belgian fashion and its international context have both seen radical change", Kaat explains. "The origins of the designers, the places where they trained, the cultural, socio-economic and political contexts from which designers shape their oeuvres all lead to an identity that is constantly changing", she continues. Haider Ackermann didn't make his world debut until 2003, much later than the others, at a time when 'Belgian fashion' was already a specific genre on the lips of fashion critics. 
His work does, however, fall in line with the craftsmanship and poetics of the contemporary Belgian designer. In fact, Nathalie says she's drawn to his work specifically because of its poetics, and his ingenious uses of layering and draping.