Vegan boutique hotel MOD Santorini has opened on the Greek island of Santorini. The family-owned hotel—originally built in the late 1970s—had been shut down for more than a decade before the owners passed it on to their son, Anargyros (Argiris) Fousteris. He and his partner, Christina Boutrou, are transforming the space into a fully renovated, adults-only vegan hotel. 
With the first stage of renovations complete, the hotel currently offers four suites on the first level of the space. When the full build is complete, MOD will offer 12 private suites over three levels. All rooms are spacious with their own unique design and private balconies, with two of the suites featuring an outdoor, wraparound jacuzzi on the balcony overlooking the Aegean Sea. 
The hotels' furniture and materials, including the suites' bedding and bathroom amenities, have been selected to ensure that they are not only luxurious but also vegan, cruelty-free, and sustainable. The rooms' mattresses are made with natural coconut fibers and the sheets and towels are locally made with 100-percent cotton.
A vegan hotel with all the amenities
MOD features a fully vegan kitchen with complimentary breakfast included with each stay. The complimentary breakfast menu features chickpea flour omelettes, homemade jam with fresh breads, seasonal fruit, and freshly squeezed orange juice and is delivered to guests' rooms each morning. The expanded room-service menu features breakfast dishes such as hazelnut chocolate pancakes, waffles with mixed berries, and spanakopita (a traditional Greek spinach phyllo pastry), plus cold-pressed juices, smoothies, and lattes. The lunch and dinner menus offer meals such as vegan burgers, quinoa Buddha bowls, and falafel wraps, along with wine and cocktails.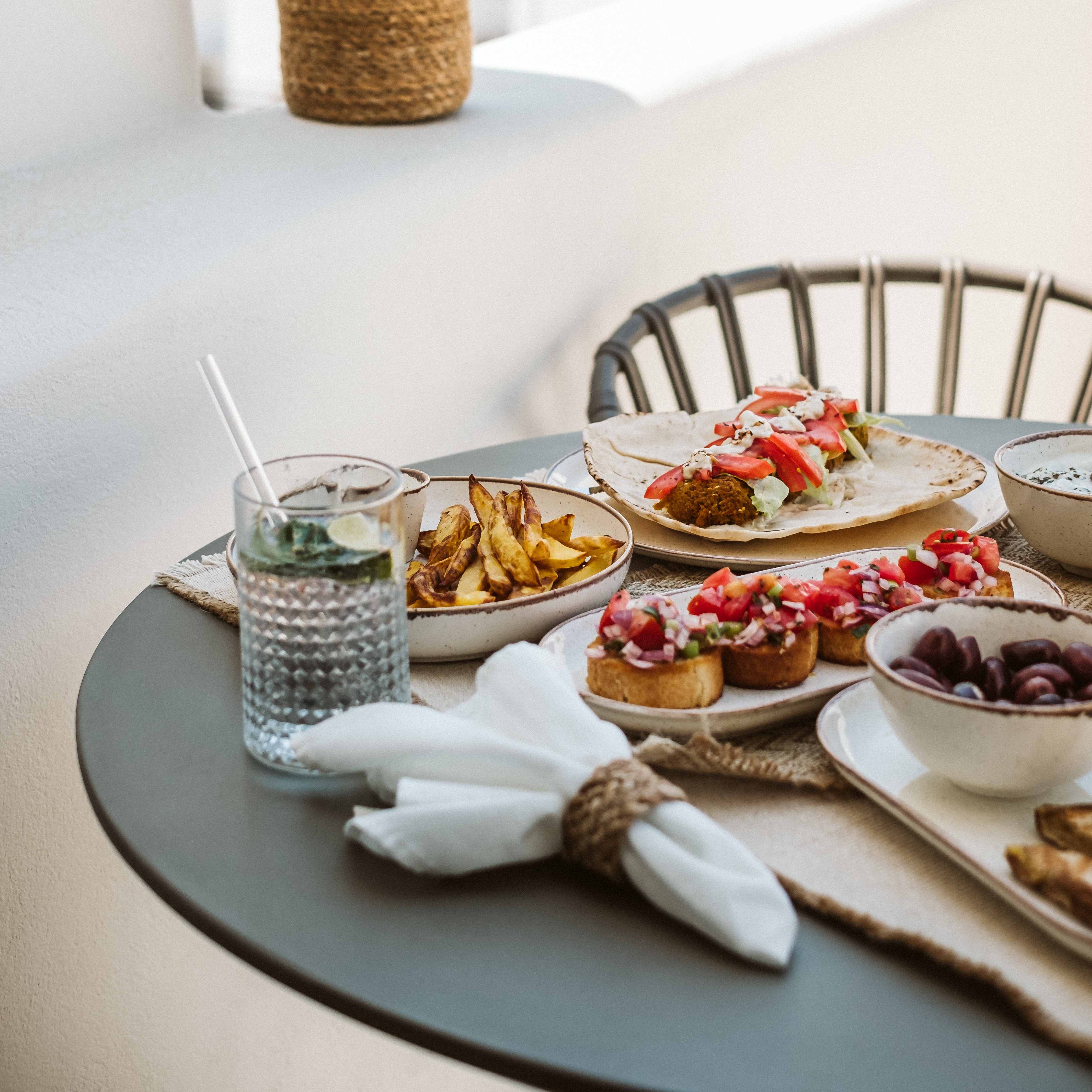 The hotel also offers a variety of activities, including private picnics with sparkling wine and house-made pizzas or a mezze board for two, as well as local vegan food and wine tours, guided yoga classes, and visits to traditional villages. As one of the most popular Greek islands, Santorini is meant for exploring with its iconic whitewashed buildings, steep cliffs, and tangerine sunsets. For its opening month special, MOD Santorini is offering up to 50 percent off for bookings in October.
Making the hotel fully vegan
Creating a fully vegan hotel was an easy decision for Fousteris and Boutrou. "When [I met] Argiris on my summer vacation in 2018, he already had plans to renovate the hotel and his dream was and is still to create something that represented the tradition and heart of his family hotel," Boutrou told VegNews. When Boutrou moved to Santorini from her home of Australia in 2019, she became fully vegan. And when the COVID-19 pandemic hit, the couple found themselves cooking more vegan dishes at home and becoming more passionate about the vegan lifestyle.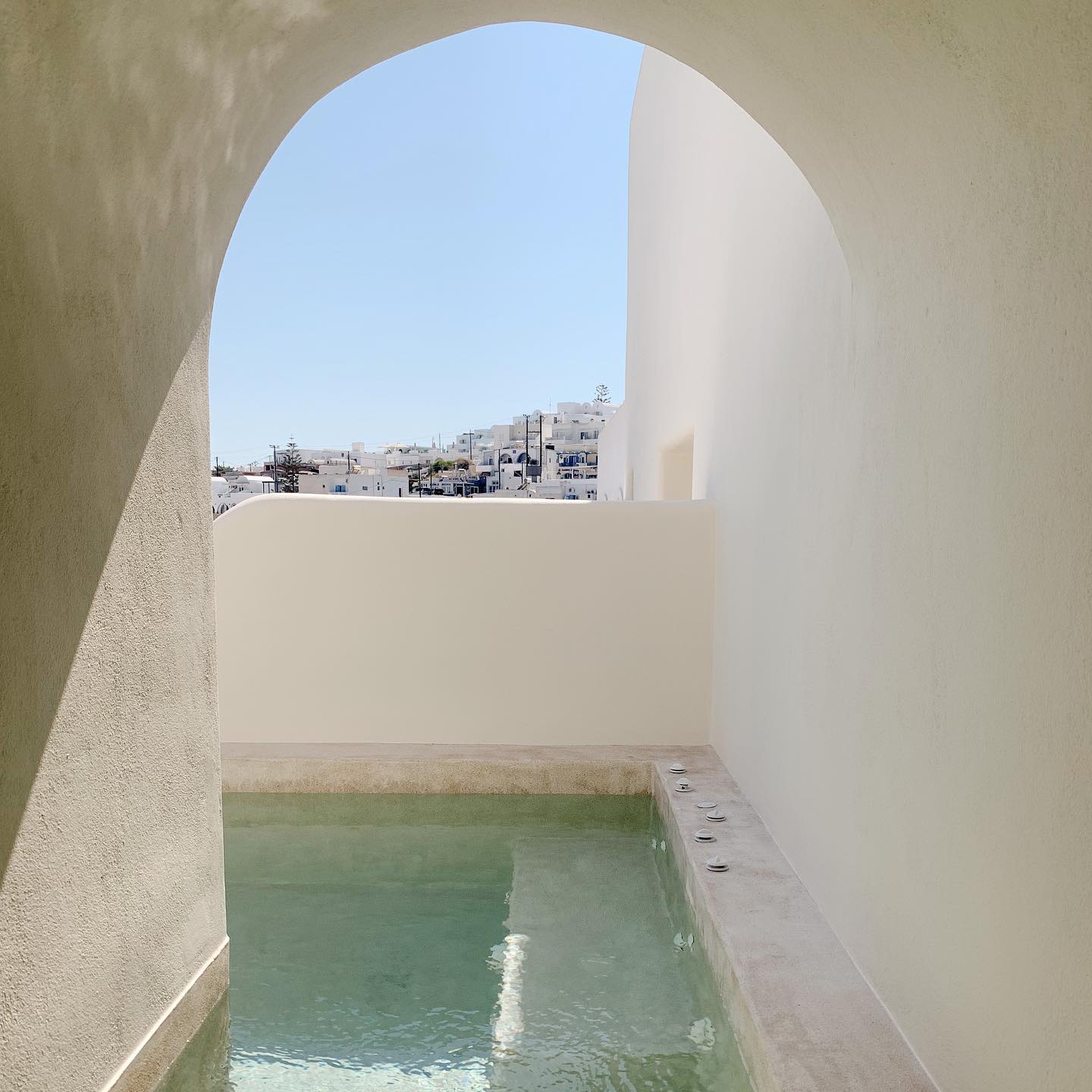 The couple also knew that travelling as a vegan could be difficult with limited choices in destination islands such as Santorini. "It was clear to us … that we should use our space to cater to our people and create a fully vegan hotel," Boutrou said. "If I was to cook breakfast, there was no way I was handling animal products. It was a clear path for us and we are proud we took this leap." 
Though Boutrou says they were told by friends and family numerous times that the concept of a vegan hotel wouldn't work and they would get complaints if eggs and bacon weren't on the breakfast menu, the couple believed it was the only way to go. "There was no convincing us any other way," Boutrou said. "It is time the hospitality industry changed [and] we are proud to lead the way for this on our island, Santorini."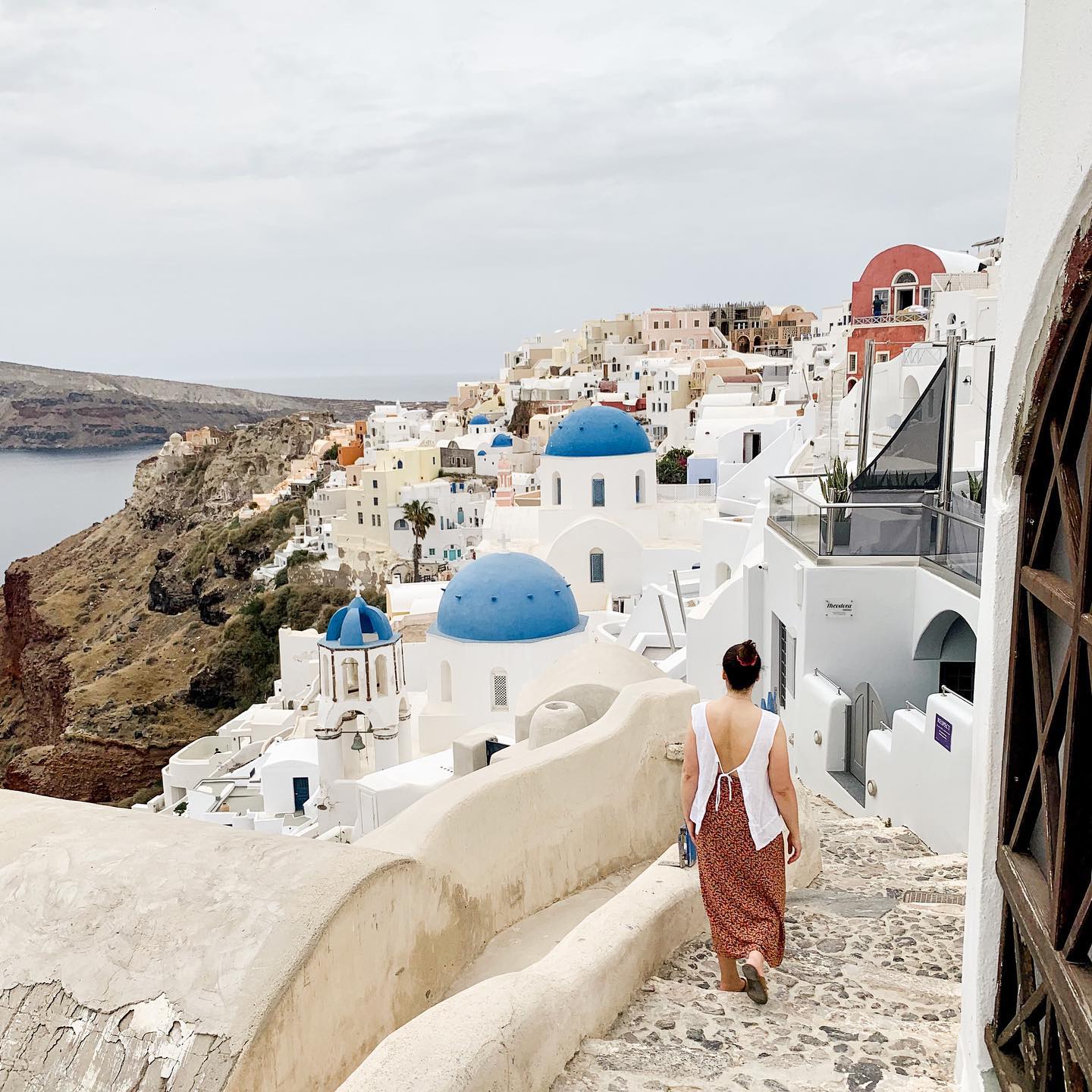 MOD Santorini is the first vegan hotel on the island of Santorini, but it is not the first in Greece. Last year, Koukoumi Hotel opened in the Ano Mera village on the island of Mykonos. The all-inclusive retreat offers suites outfitted with vegan decor; a spa with wellness treatments using vegan and cruelty-free products; a fully stocked gym where trainers offer outdoor fitness courses; and a vegan restaurant featuring a breakfast buffet and Greek-inspired dishes.

https://vegnews.com/2021/9/santorini-vegan-boutique-hotel