Cameron Cruse and Lisa Bradley are two very qualified, hard-working individuals who still had trouble finding work. Bradley has two degrees in business administration while Cruse has a master's degree in architecture. Despite their qualifications and experience, they still could not find work.
The reason? They're married to military members and likely will move to a new area in two to three years. Even with so many ways to work and communicate long distances and a lack of skilled talent in certain areas of the country, military spouses still face that age-old obstacle to meaningful employment: occasionally moving with their uniformed loved one.
So Bradley and Cruse started their own business and began to hire military spouses who were in the same tough spot they were.
"We set out not only to educate our peers as business owners and entrepreneurs [about military spouses]," Cruse told Military.com, "But really to provide a new space where women and military spouses can design their own careers."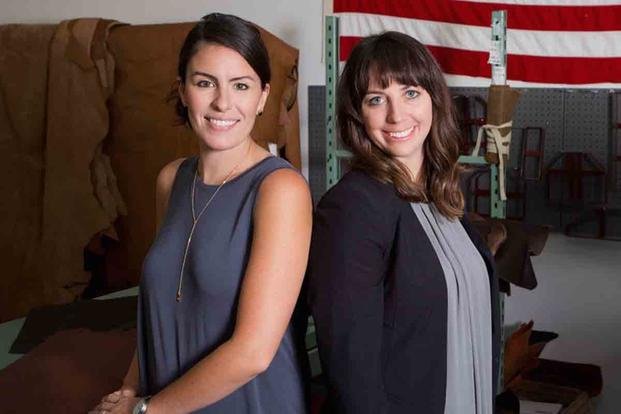 The two met when their husbands were sent to Georgia for duty. They first encountered one another at an official function and became fast friends. As time went on, they learned they shared the same career aspirations, along with the obstacle to go with those aspirations.
Only a handful of months passed before they were in business, despite not knowing much about the manufacturing and retail sectors. R.Riveter, a manufacturer and purveyor of American-sourced, handmade handbags made by military spouses and named for the famous Rosie the Riveter icon of World War II, was born.
"When we started this, we really had no idea what we were doing," Cruse said. "But you know, I think there are a lot of parallels to the handbag and accessory design world to the architecture world. It has to be beautiful, but it has to be functional. You have to know how to put it together, and you have to know what materials to use."
The company wasn't just going to be their career; it could be a career for many spouses at the same point in their lives. They sewed their first handbag in Cruse's garage in 2011 and were hiring milspouses six months later.
"When we met each other, I want to say it was summer and we started the business by November," Cruse recalled. "When we jumped in, we jumped in all the way. We had that light-bulb moment where we knew the whole point of our company was going to be to provide mobile, flexible income for military spouses."
The first R.Riveter handbag was actually a dopp kit, a kind of toiletry bag, and it was sewn entirely by hand. With demand increasing, they purchased an old industrial sewing machine with a credit card. The popularity of the products only grew, and R.Riveter grew along with it.
A successful Kickstarter campaign in 2014 allowed them to raise the capital to hire more spouses. An appearance on ABC's "Shark Tank" in 2016 earned them an investment from billionaire Mark Cuban. Today, the company has 45 "Riveters," military spouses who work to make R.Riveter products, across the United States.
R.Riveter is not only selling online anymore. The company just opened its first permanent storefront in Southern Pines, North Carolina — about two hours east of Charlotte — and is thinking about growing beyond handbags. But its most important development is the Riveter Fund, a grant where the company awards a military-connected entrepreneur $2,100 to build or continue building their business or their brand.
"We believe a rising tide floats all boats," Cruse said. "When you start a business, you're really taking a huge risk. So when you see that start to pay off, the orders roll in and then the companies grow, it's, it's really pretty cool."
Through R.Riveter, Cruse and Bradley also hoped to build and grow a community of military spouses and families who can lift some of the burdens of that life off one another.
"When you're a military family, you're packing up and moving every three years on average," Cruse said. "You have so much to think about, things to redo and reestablish. Having the ability to say to yourself, 'OK, my income and a community to plug into is one less thing I've got to worry about.' is something we're incredibly grateful for."
"We rarely take a pause to appreciate it, you know, because it always feels like there's so much to do and to keep working on," Cruse said. "But when we take a step back to think about it, it's really pretty amazing. It's been a lot of hard work, but there's something about working for yourself, and also working for a larger cause. There's really nothing like it."
To check out R.Riveter's lines of handbags, totes, accessories and more, visit the R.Riveter website. For those in North Carolina, stop by the R.Riveter flagship store in Southern Pines.
— Blake Stilwell can be reached at [email protected]. He can also be found on Twitter @blakestilwell or on Facebook.
Want to Know More About Veteran Jobs?
Be sure to get the latest news about post-military careers as well as critical info about veteran jobs and all the benefits of service. Subscribe to Military.com and receive customized updates delivered straight to your inbox.
Show Full Article
© Copyright 2021 Military.com. All rights reserved. This material may not be published, broadcast, rewritten or redistributed.

https://www.military.com/veteran-jobs/rriveter-handmade-accessories-brings-mobile-flexible-income-military-spouses.html